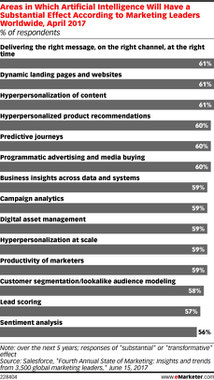 More marketers are showing interest in artificial intelligence (AI), but it might be some time before it has a real impact on their business.
According to an April 2017 survey of marketing leaders worldwide from CRM technology provider Salesforce, respondents expect to see improvements in efficiency and advancements in personalization over the next five years.
Indeed, nearly 60% of respondents said they expect AI will improve the efficiency of campaign analytics, digital asset management and the collection of business insights across data and systems.
More than 60% of marketers also envision leveraging AI to create dynamic landing pages and websites. And the same percentage expect the technology to have an impact on programmatic advertising and media buying.
By and large, more marketers are looking to AI to help shape many areas of focus, including content marketing.
A recent survey of US marketing leaders conducted by BrightEdge found that while a large share of respondents said they were unlikely to use AI or deep learning in their content marketing, a significant number felt differently.
In fact, nearly a third of respondents said they were somewhat likely to use AI to help flesh out their content marketing efforts. And an additional 8.7% said they were very likely to do so.
—Maria Minsker
Source: https://www.emarketer.com/Article/How-Will-AI-Affect-Marketing-Efforts/1016108