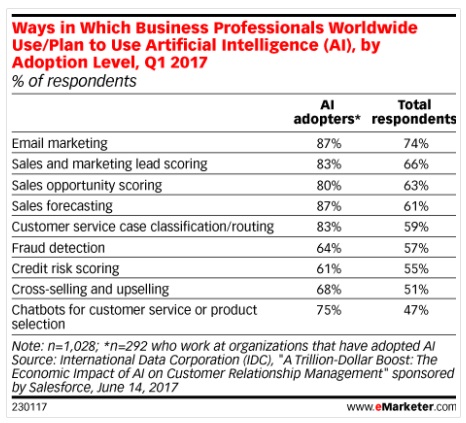 Artificial intelligence (AI) has the potential to have an impact on many areas of customer relationship management (CRM). During Q1 2017, 1,028 business professionals worldwide (including 292 respondents working at organizations that had adopted AI) were asked how they either currently use or plan to use AI.
When it came to email marketing, for example, 87% of AI adopters said they used or planned to use AI for this purpose. Meanwhile, 74% of the entire respondent pool—which was made up mostly of non-adopters—said the same. Similarly, 83% of AI adopters were using (or had plans to implement) the technology within their sales and marketing lead scoring, vs. a smaller portion of total respondents (66%).
By and large, the study found that AI adopters were more likely to use or plan to use the technology for many purposes compared with respondents overall.
There are a number of marketing areas in which AI is expected to have an impact. According to a separate April 2017 survey from Salesforce, almost 60% of respondents said they expect AI will improve the efficiency of campaign analytics, digital asset management and the collection of business insights across data and systems.
Source: https://www.emarketer.com/Article/Artificial-Intelligence-Powers-Many-CRM-Functions/1016428